Printable Furniture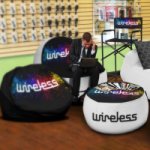 Above All Advertising offers a wide variety of attractive and comfortable printable furniture. These pieces are a great fit for tradeshows, restaurants, hotels, lobbies, showrooms and more! Create a central theme in any room using your own branding and colors.
The Design Air™ inflatable - Patent Pending inflatable furniture brings a unique high end feel and design element with all the benefits of an inflatable product. The product, unlike conventional PVC - inflatables can withstand much heavier usage and is extremely resistant / durable. Think of Designer furniture first, then think inflatable. It's tough canvas like outer shell and exclusive "EP" (Elastoplanolium(TM)) materials make this designer line of furniture perfect for any occasion.
Headboards are visually appealing accents to beds, which add texture and color to a room. Compliment your bed with a custom headboard. Upholstered headboards are comfortable to sit against. Is your personal land of nod as exotic as this? Get with a whole new concept in bedroom decor. Your headboard is as inviting as your mattress, you can't help but be drawn in.