Portable Display Stands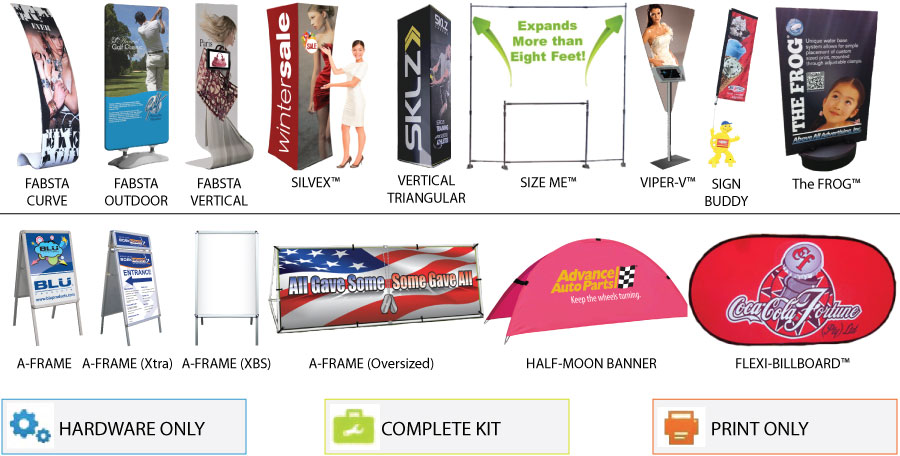 Above All Advertising, Inc. offers a large selection of outdoor display products. Our Indoor Displays will attract attention to your business, events or promotions in areas where high traffic or crowded visuals demand superior impact. We take pride in knowing that our signage will bring you business by getting you noticed. Throughout the years Above All Advertising has delivered success and continue to do so for all of our customers who use our signage products. We are prepared to go the extra mile no matter how big or small the order is.
We offer a large line of display stands ranging from the usual to the unusual! If you are looking for a unique custom designed display stand then we've got the perfect products for you. Our powerful online designer allows you to set up any of our display stands as you want. Custom design on our templates or a facsimile of the product and submit the artwork and order, it's as simple as that to get your custom designed display stands!
Here are just a few of the fantastic Indoor Display uses: Restaurant, Golfing events, Sporting events, Car Dealerships, Races, Festivals, Parades, Product Demo, Trade shows, Retail Kiosks, Sports Teams, Tournaments, Triathlons, Open Houses, In Store Promotions, Store Front Promotions, Train Stations, Universities, Colleges, Trade Schools, Real Estate and so much more.
Above All Advertising delivers inflatable advertising and signage solutions to many of the world's most successful brands and many of the world's most demanding marketers. We work attentively with our clients to ensure the materialization of your inflatable advertising vision. You may custom design our entire product range, including (but not limited to) giant inflatables, Wacky Men, helium blimps, the classic inflatable advertising balloon, and non inflatables like Flex Blade® flying banners and pop up tents. Learn more about advertising inflatables products that demonstrate the expert talent and capability that led Above All Advertising.net to multinational recognition by visiting our Articles page. To become more visible, use a trusted name in inflatable advertising : Above All Advertising, Inc